Categories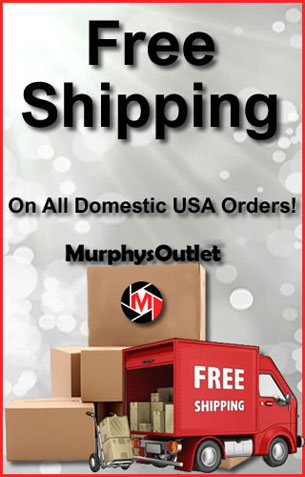 FAQ
IS IT SAFE TO USE MY CREDIT CARD?
Absolutely. We have taken every precaution to make your transactions secure. We are a Secure Site and use SSL (Secure Sockets Layer).
About SSL Certificates:
Nevertheless, if you prefer, we also offer you the option of submitting your order by telephone or fax at the numbers below. All account information submitted to us is safely isolated from unauthorized Internet access.
Sales Tax
Sales tax (8.875%) will only apply if you take possession of the merchandise in person or by mail within New York State. If you have the merchandise shipped to any other state outside of New York or outside of the United States of America you will not be assessed New York State Sales Taxes.
How can I pay for my order?
We accept all major credit cards, PAYPAL checkout. We also accept checks and money orders in advance with 10 days to clear once we receive it. Orders paid by check will usually not be processed until the funds have been verified. If you are sending a check, please send it to the name and address given below. You will be prompted to pick the payment method at the checkout time.
How much will my shipping and handling charges cost?
During the ordering process, you will be able to choose from one of the many shipping options available. The total cost of goods and the cost of shipping as well as any applicable sales taxes will be clearly displayed. We also have many items that are FREE SHIPPING.
Do you ship to APO and FPO Military Addresses?
Yes, we ship to APO and FPO Military Addresses. You can select this option from the list of shipping methods. APO/FPO shipments are usually shipped Priority Mail. For Express Mail Service please speak with one of our sales representatives for availability to your zip code.
How do I track my order?
Go to the home page and click on "Check Status". There you will receive details about your order, including any items that are outstanding or that have been back ordered, and their status.
Why do we sell Imported items?
Product availability — by selling Imported items, we're able to offer items that may currently be unavailable directly from manufacturers.
What are the key differences between Imported and Regular items?
Imported items are not warranted by the manufacturer and, instead, come with a limited warranty from us.
Are there any other differences?
Typically, there are no other major differences in how the items function. There may be some slight changes to how the menu system is organized, which languages are set as default, or the literature included with the item. Functionally, the items are the same.
Can I purchase an extended warranty on grey market items?
Yes. Customers can purchase an extended warranty in the exact same way as they would with an item with a standard manufacturer's warranty.
What if I need to return my order?
You may return an item in its original condition for a refund or credit within 14 days of receiving. You must call to get a RMA number (No return will be accepted without a RMA number). All returns must be accompanied with your Invoice. After a return has been received, it will take 1-2 weeks to process. There is a twenty percent restocking fee and shipping and handling are non-refundable. If using a credit card, refunds will be credited to your account. If paying by check or money order, a refund check will be mailed to you. We suggest using UPS or insured Parcel Post for your protection. For additional information please refer to our store policy.
What if you don't have all of the items in stock?
If an item you ordered is out of stock, it will be back-ordered but we will call you and inform you about it (domestic orders only). For international orders, we will E-mail you of any omitted items to confirm the balance of your order.
Where are you located?

Murphys Outlet:
276 5th Avenue
Suite 704 - 3055
New York, NY 10001
What is your Store Policy?
https://www.murphysoutlet.com/Return_Policy.htm